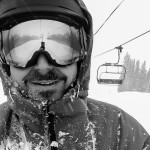 Mitch Tobin, an independent journalist and consultant, created EcoWest.org.
From 1998 to 2006, Mitch covered environmental and other issues for the Napa Valley Register, Tucson Citizen, Arizona Daily Star, and High Country News. He won numerous awards for explanatory, feature, and deadline writing, including two first prizes from the Arizona Associated Press Managing Editors for his stories on water and border issues. Mitch's first book, Endangered, evaluates the effectiveness of the Endangered Species Act and received a gold medal in the 2011 Independent Publisher Book Awards.
From 2007 to 2014, Mitch worked at California Environmental Associates, a consulting firm that works at the nexus of markets, science, and policy to solve environmental problems. CEA staff helped produce EcoWest, which was initially funded by the David and Lucile Packard Foundation's Western Conservation subprogram.
EcoWest is now supported by Sea to Snow LLC, Mitch's consulting business. See WaterPolls.org for Mitch's recent work analyzing public opinion on water issues, with a focus on the American West.
Before becoming a reporter, Mitch worked for the Urban Institute in Washington; the Arizona League of Conservation Voters in Tucson; the National Parks Conservation Association in Oakland; and the Institute of Governmental Studies at UC Berkeley. He has also taught English in Ecuador and journalism at Pima Community College.
Mitch grew up on Long Island, graduated from Yale College with a bachelor's in Ethics, Politics and Economics, and earned a master's in political science from UC Berkeley. He lives in Denver.
Contributors