Open space bonds and other ballot measures are a critical source of environmental funding in the United States. Since 1988, American voters have approved 1,810 ballot measures that have generated more than $58 billion for conservation.
These measures usually pass, even though they typically involve increasing taxes and government spending.
To track the success of conservation ballot measures, I've created a dashboard on this page based on the Trust for Public Land's LandVote database. Click on the screenshot below to enlarge.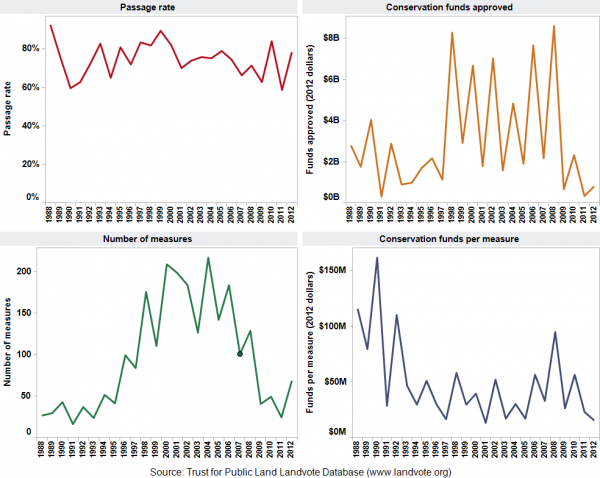 I used the same data to create a couple of slides, which are available for download at the bottom of this post and in this video below.
Conservation measures generally do well at the polls, in part because backers tend to avoid placing them on ballots when the chances of passage are low, such as during a recession. On average, three-quarters are approved, but the number of measures tends to be lower in off-year elections.
In recent years, with the economy in the doldrums, fewer measures have been placed on ballots. Funding peaked in 2008, when some $8 billion was approved.
It'll be interesting to see whether the number of measures put to voters increases in the years ahead if the economy continues to recover.
Downloads
Data sources
The Trust for Public Land makes this data available through its LandVote database. Data from 1996 onward is most comprehensive. "Measures for the years prior to 1996 have been researched to the extent possible," the website says, "based on historical research collected from newspaper archives and state and local elections officials."
EcoWest's mission is to analyze, visualize, and share data on environmental trends in the North American West. Please subscribe to our RSS feed, opt-in for email updates, follow us on Twitter, or like us on Facebook.